MEDIA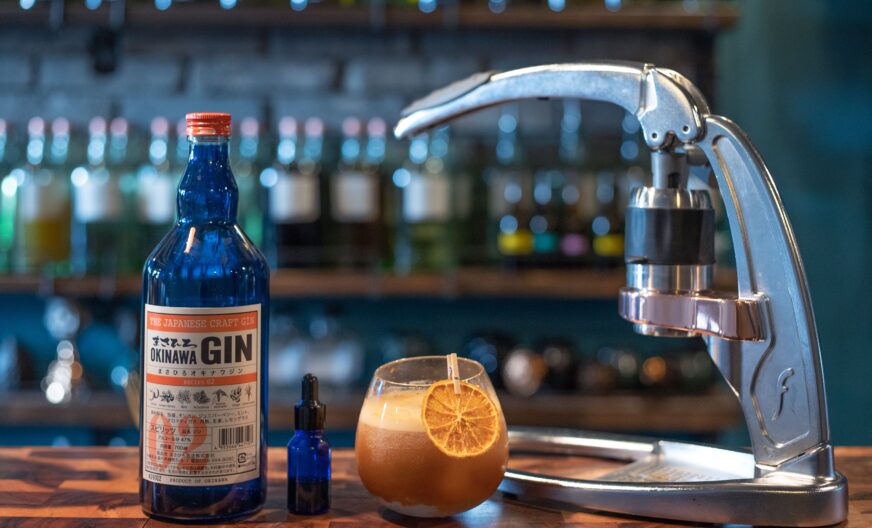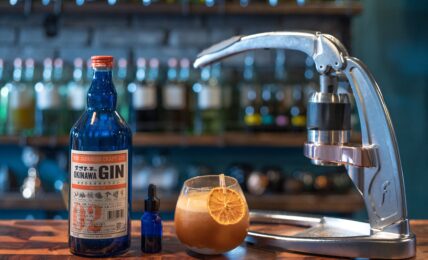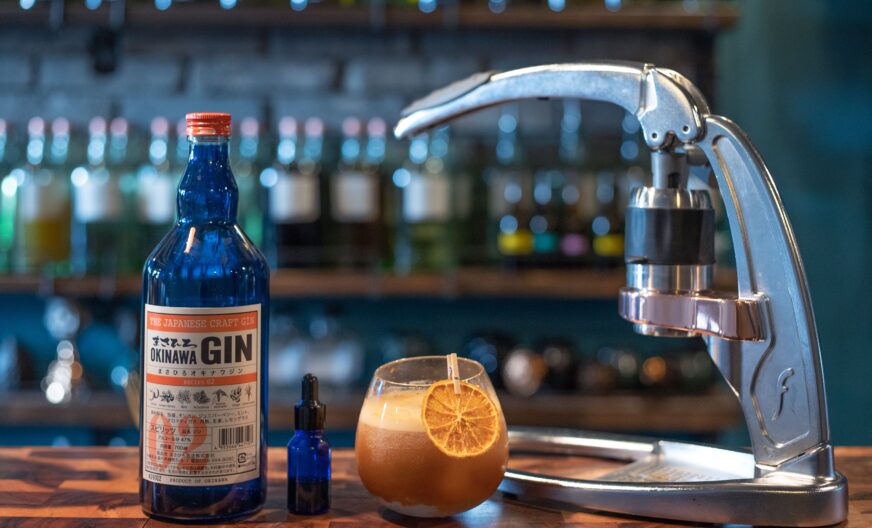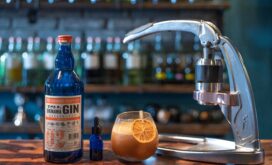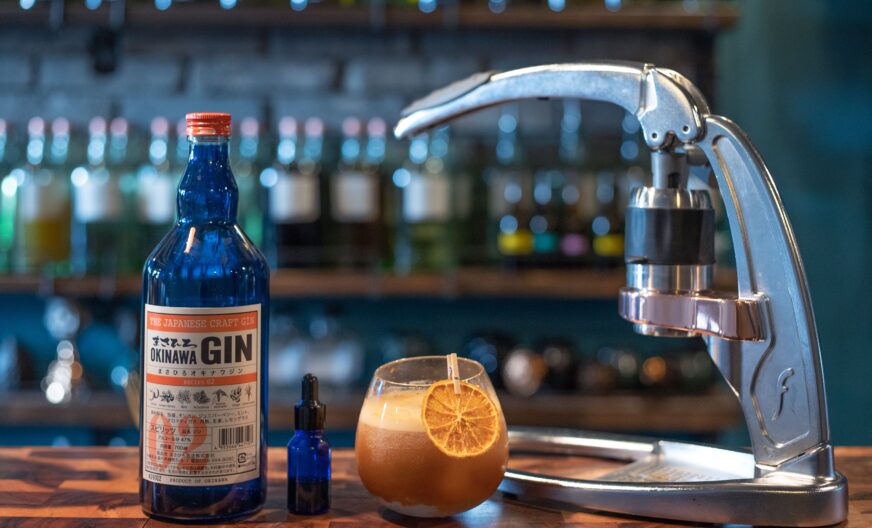 Ryukyu Mixology Style Bar Alchemist, using the latest equipment and materials produced in Okinawa.
Have you heard of the term "mixology"? Mixology is a word coined from the combination of the words "mix" and "ology" (Science). Bars that offer cocktails filled with ideas that incorporate the latest cooking methods without being bound by existing frameworks are beginning to attract attention around the world. I would like to introduce to you the first mixology bar in Okinawa, Ryukyu Mixology Style Bar Alchemist. We spoke with bartender Tomoaki Nakamura.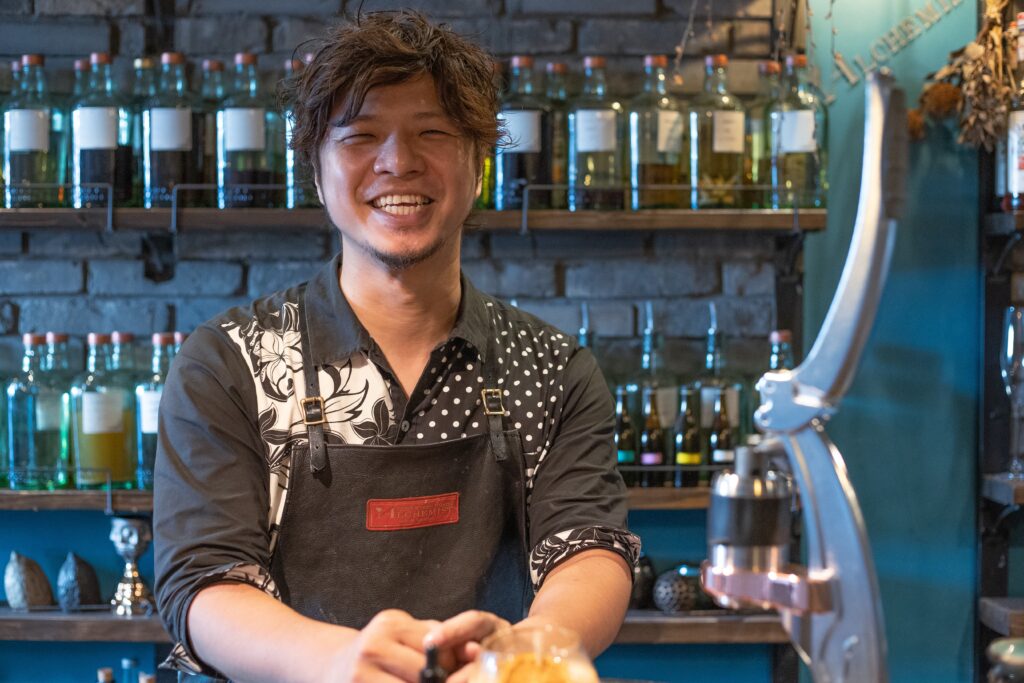 −What kind of bar is Ryukyu Mixology Style Bar Alchemist?


It is a bar that serves original cocktails using the latest equipment and Okinawan ingredients.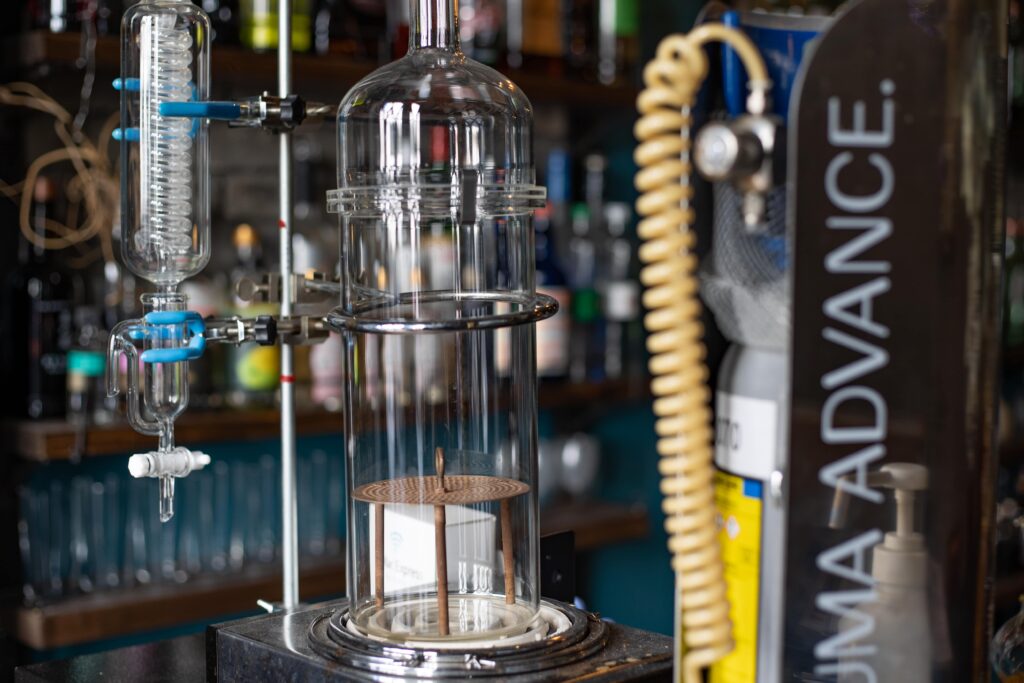 −What is the latest equipment, for example?


Espuma, smoke machines, liquid nitrogen, food dryers, distillers, aroma smoke, vacuum cookers, carbonate shakers, etc. Espuma turns the ingredients into a mousse-like foam, creating a light and fluffy texture and rich flavor. Liquid nitrogen is used to freeze drinks to make frozen cocktails, while we use distillers for wormwood and moonflowers, for example, to make aromatic distilled water and syrups. The food dryer is used to dry tomatoes, bitter melon, citrus fruits, and other fruits to add a finishing touch to cocktails.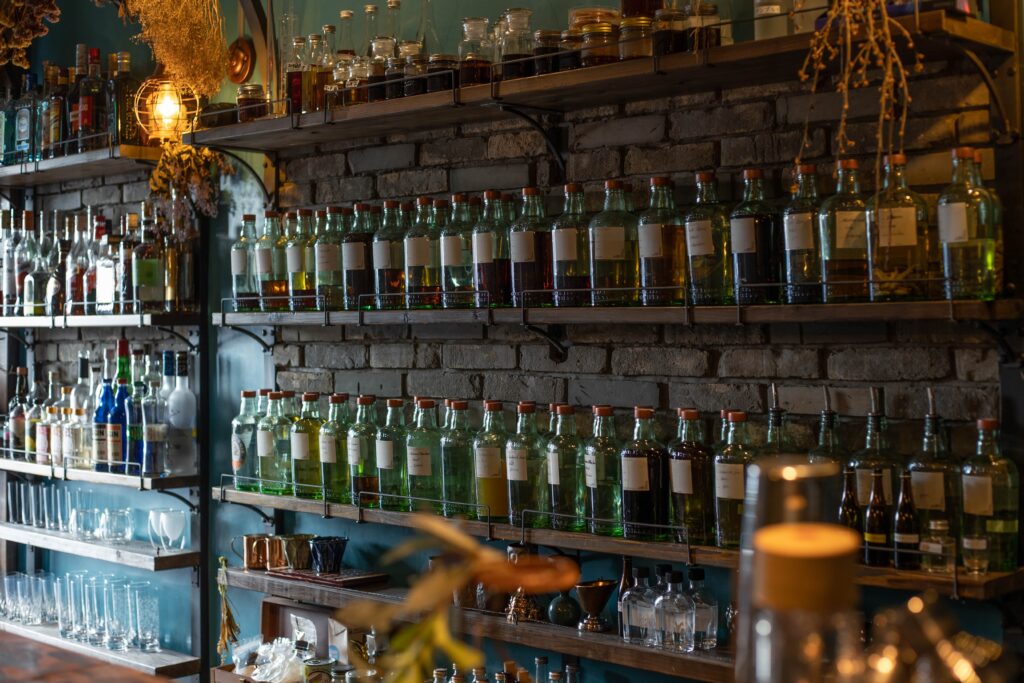 −You have been bartending for a long time, how long have you been bartending?


I started bartending when I was 19, so this is my 20th year.


I am from Kumamoto Prefecture, and when I first moved to Okinawa, I was working part-time at a bar at night while attending a vocational school for childcare workers. After graduating from the school, I became a nursery school teacher, but it was not enough to make a living, so I continued to work part-time at the bar. I think it was in the middle of my second year as a nursery school teacher that I became interested in being a "flair bartender", making cocktails while performing, and I was allowed to work at a flair bar two to three times a week to train. I was working three jobs at the same time, so it was getting harder and harder for me. My interest in flair bartending was at its highest. That's when I was approached by a flair bar. It was a bar called "Eclipse" in Chatan. I worked there for three years. After that, I worked as an outsourcer at a flair bar in Okinawa City for three years, then at the food and beverage department of the Okinawa T-shirt brand HABUBOX in Chatan for two years, at the Roisir Hotel in Naha for three years, and at the Sheraton Hotel for two years before launching Alchemist in August 2018.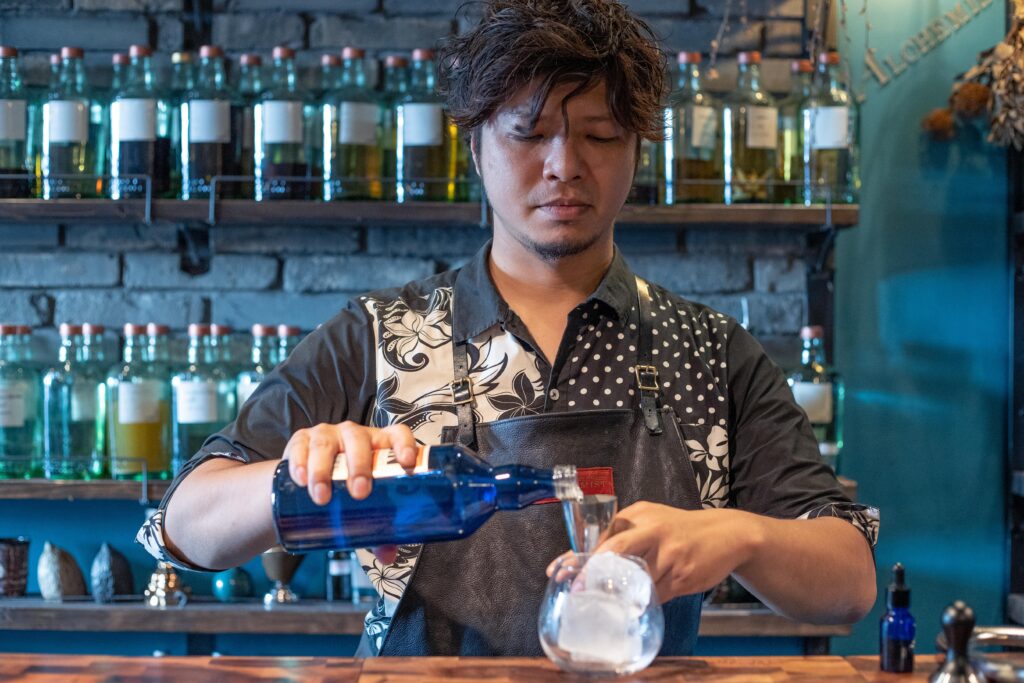 −Why did you decide to open a mixology bar? How did you get started?

When I started working at the Loisir Hotel, I started to participate in cocktail competitions and shows all over Japan. I knew I wanted to work as a traveling flair bartender, so I wanted to increase my awards and achievements. I think it was around 2015 or 2016, when I stopped by the bar "Benfiddich" in Shinjuku after the Kanto Tournament was over. There was a guest bartender from N Y that day, and many of Japan's top bartenders were there to watch. I was able to join the social gathering afterwards, and I found it interesting that everyone had a different take on cocktails. At that time, I thought to myself. I thought, "I want to do mixology with a solid foundation". At that time, there were no mixology bars in Okinawa, so I decided to become the "first penguin".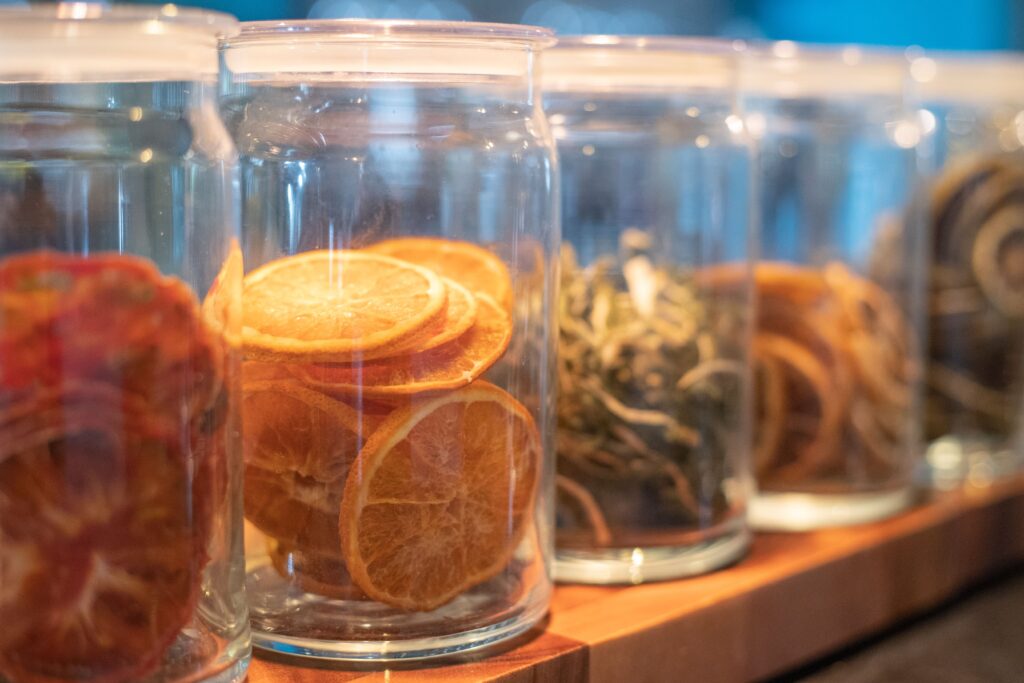 −Why is the name of the restaurant "Ryukyu"?

This is because we are particular about Okinawa. Shikwasa, shell ginger, huchibar (mugwort), red sweet potatoes, bitter gourd, sanping tea, island chili peppers, etc… We use Okinawan ingredients as much as possible, and in addition to ingredients, we also use utensils made by artists working in Okinawa such as Yoshiaki Imamura, Gaku Yamagami, and Nobuko Konno. For the food menu, we purchase from "Timeless Chocolate", Okinawa's first bean to bar style chocolate specialty store, and "TESIO", a specialty store of homemade ham and sausage in Okinawa City. We named the store "Ryukyu" because we want to support the people who are working hard in the prefecture, and we also want to make it a store that can revitalize the economy of Okinawa.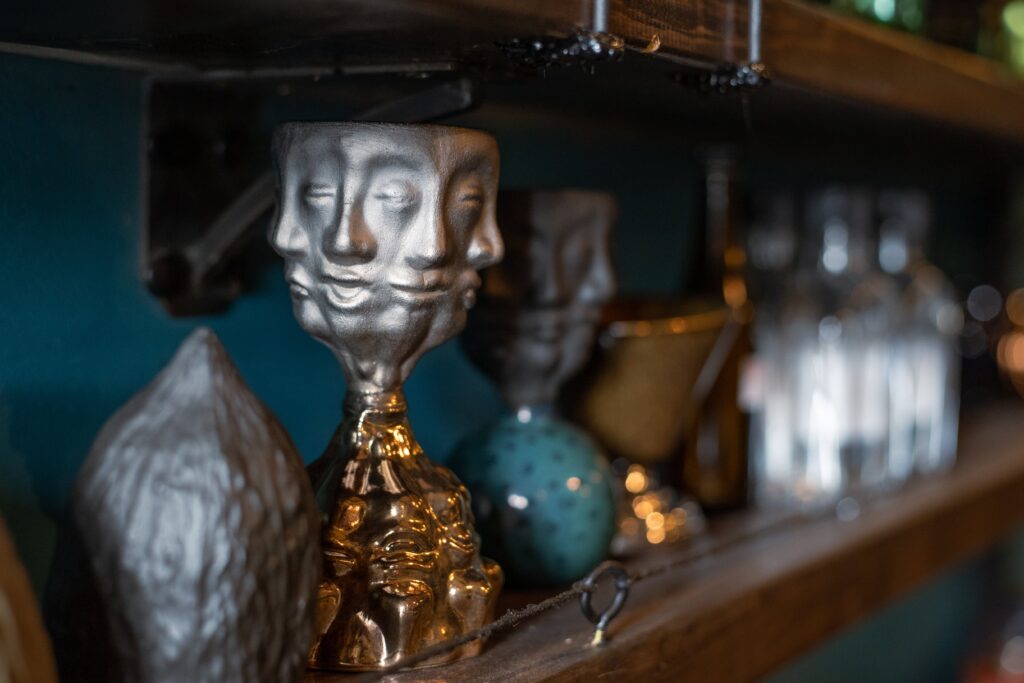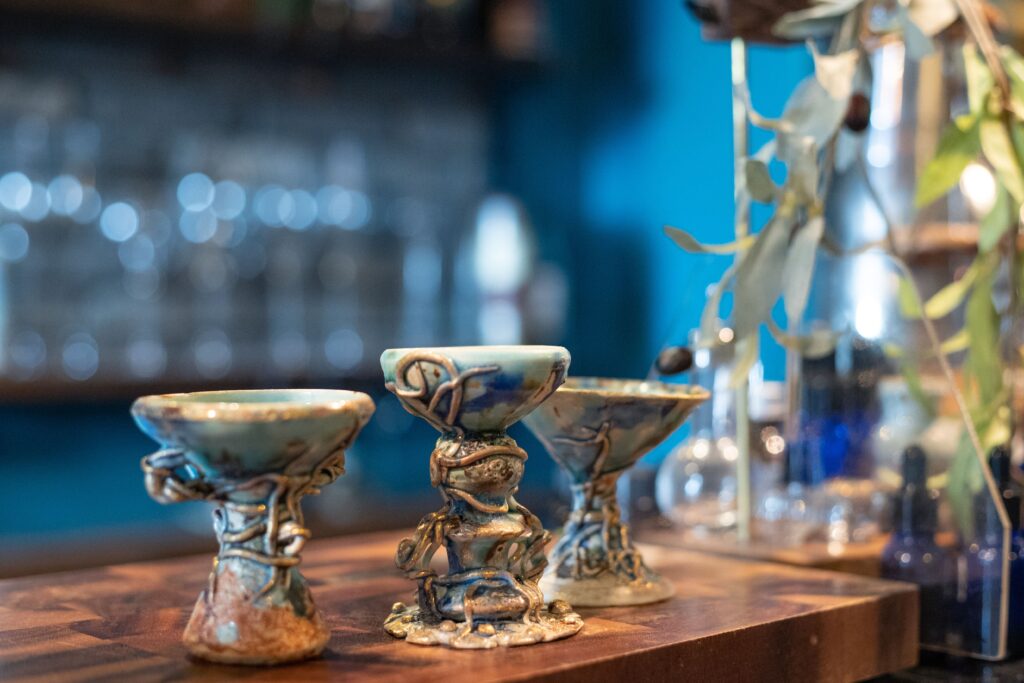 −How many different cocktails do you have? I've never seen these cocktails anywhere else.

I think we have about 60 to 70 original cocktails. Some of them are made for bar hoppers and bar lovers, while others are easy to understand for people who are not used to going to bars. I refer to a lot of things. I refer to books written by chefs and pâtissiers, and to the combination of essential oils in aromatherapy. I love books, so I read and study books of various genres.
When I think of an original menu, I first decide on a theme. For example, if the theme is "passion fruit," I think of the herbs and spices that go well with passion fruit, and then I think, "Let's add a little acidity." Then I think of a recipe in my head. Once you have a good idea of what you want to do, try making it and drinking it to make sure you can feel the flavors of all the ingredients used. Then I add or subtract ingredients. My goal is to create a cocktail that can be tasted with all five senses.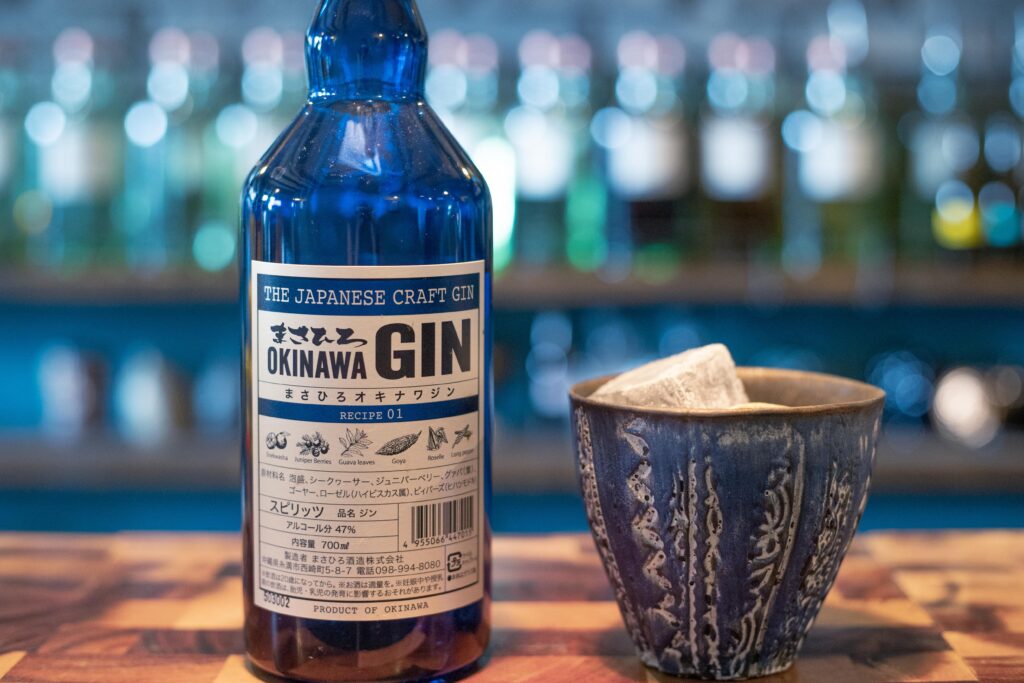 −Why do you stock Masahiro Okinawa Craft Gin?

I decided to use all the craft gins from Okinawa for my store that focuses on Okinawa. Masahiro Okinawa Craft Gin was the first craft gin to be produced in Okinawa, so it's very well known. There are three companies selling craft gin in Okinawa, and I think it's interesting that each one has its own personality.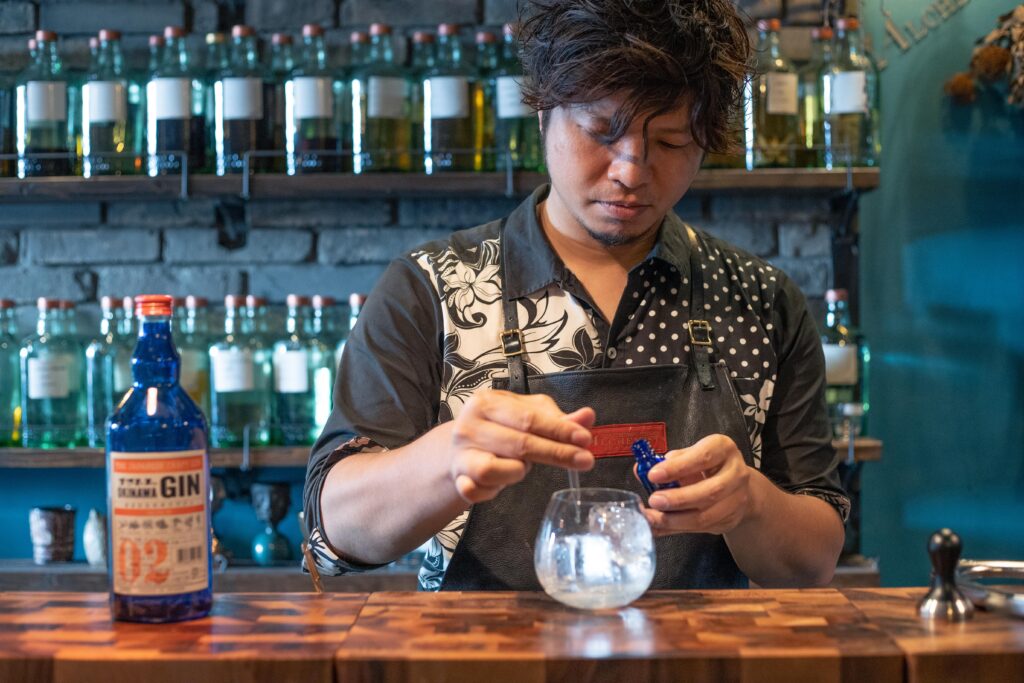 −What is your impression of Masahiro Okinawa Craft Gin compared to the other two companies?

It retains a strong sense of awamori compared to other companies' Okinawan gin. This was controversial from the point of view of some bartenders. (laughs) But for the general public, it might be better to have the Awamori flavor to make it more "Okinawan". In addition to the Awamori, the Shikwasa aroma also comes out in a buzz, so even if someone who is not used to making cocktails were to make one at home using Masahiro Okinawa Craft Gin, I don't think the characteristics would be lost.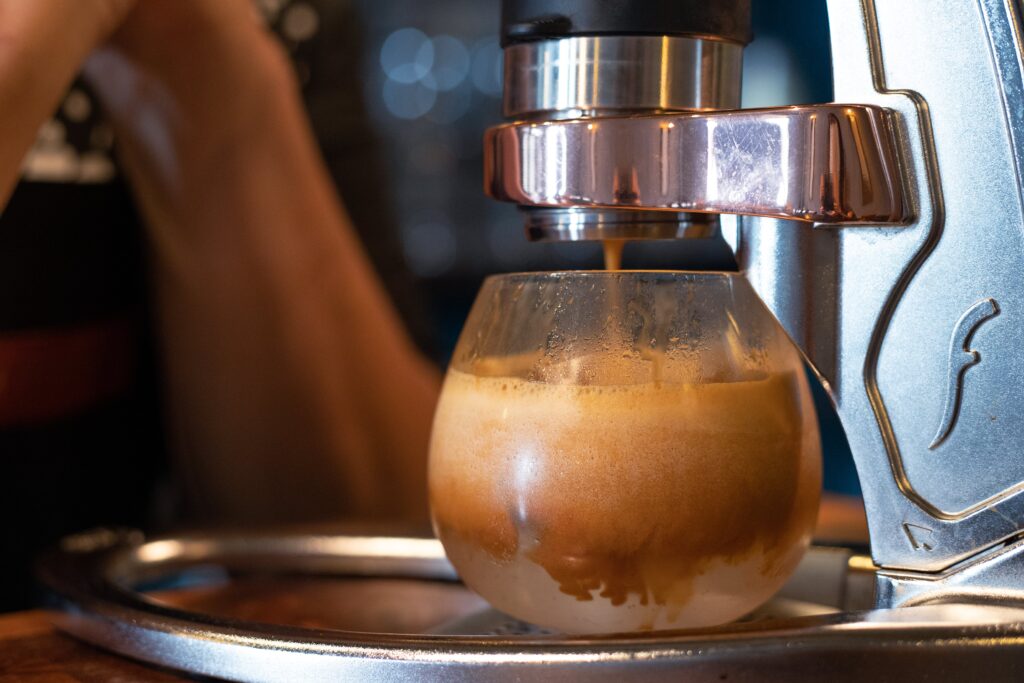 −What are the cocktails using Masahiro Okinawa Craft Gin that are available here?

The "Masahiro Okinawa Craft Gin and Tonic" gives you a simple taste of six botanicals, and the "Masahiro Espresso Gin and Tonic" is made with "Masahiro Okinawa Craft Gin Recipe 02," which uses tangerine, a popular ingredient in Okinawa.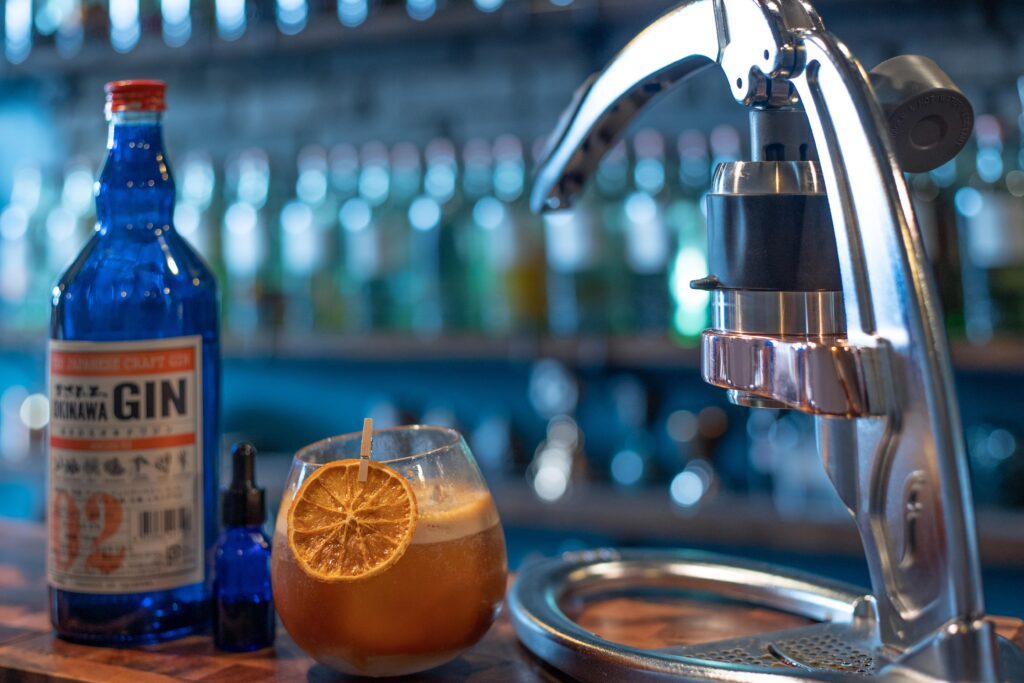 The Masahiro Espresso Gin and Tonic is a cocktail made with tangerine flavored Masahiro Okinawa Craft Gin, a small amount of vodka flavored with homemade cassia cinnamon, tonic water, and finished with espresso brewed with shallow roasted Yirgacheffe coffee beans.
I tried the coffee beans in a deeper roast, but the shallow roast was more in line with the citrus flavor and the espresso flavor.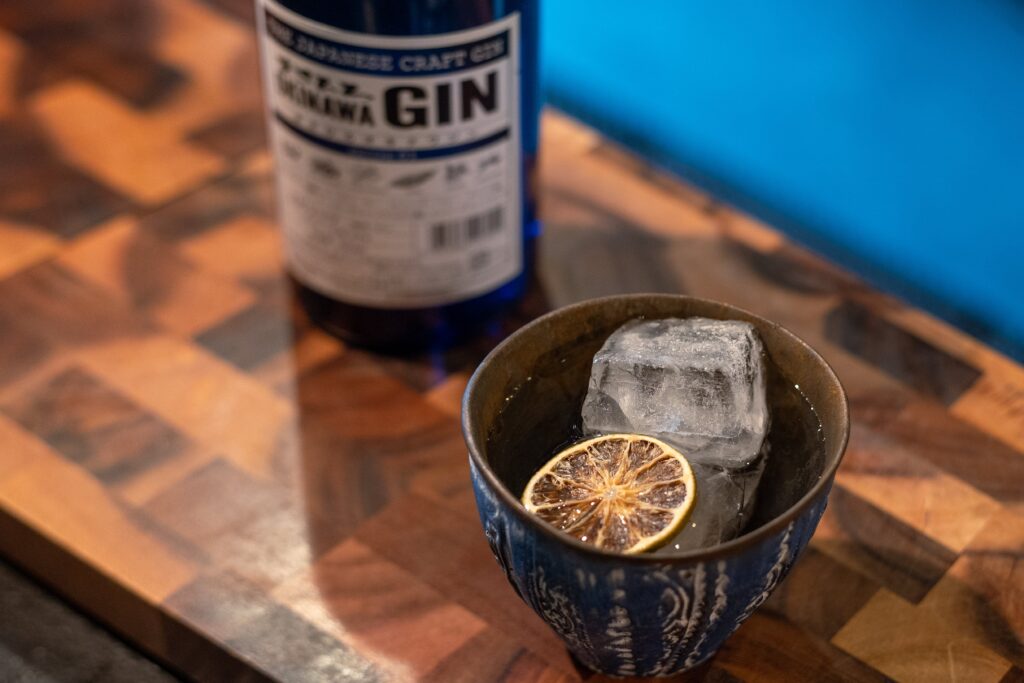 −How would you have Masahiro Okinawa Craft Gin at home?

Chill the gin in the freezer beforehand. I think a good gin and tonic is to fill a glass with ice, pour in the gin that has been chilled in the freezer, and then pour the chilled soda into the glass. The important thing is to keep the temperature of the gin down. That way, when you pour the soda, the aroma will come through. Since a bottle of gin takes up a lot of space, you can also put some Masahiro Okinawa Craft Gin in a glass and chill it in the freezer. I thought that the flavor of Masahiro Okinawa Craft Gin would come out better if it was simply drunk.


−What foods go well with gin and tonic?

The gin and tonic are refreshing and it's a wash. So, I think it goes well with anything that makes your mouth feel thick. For example, Goya champuru. You fry it in oil, right? The gin and tonic cleanses the mouth, doesn't it?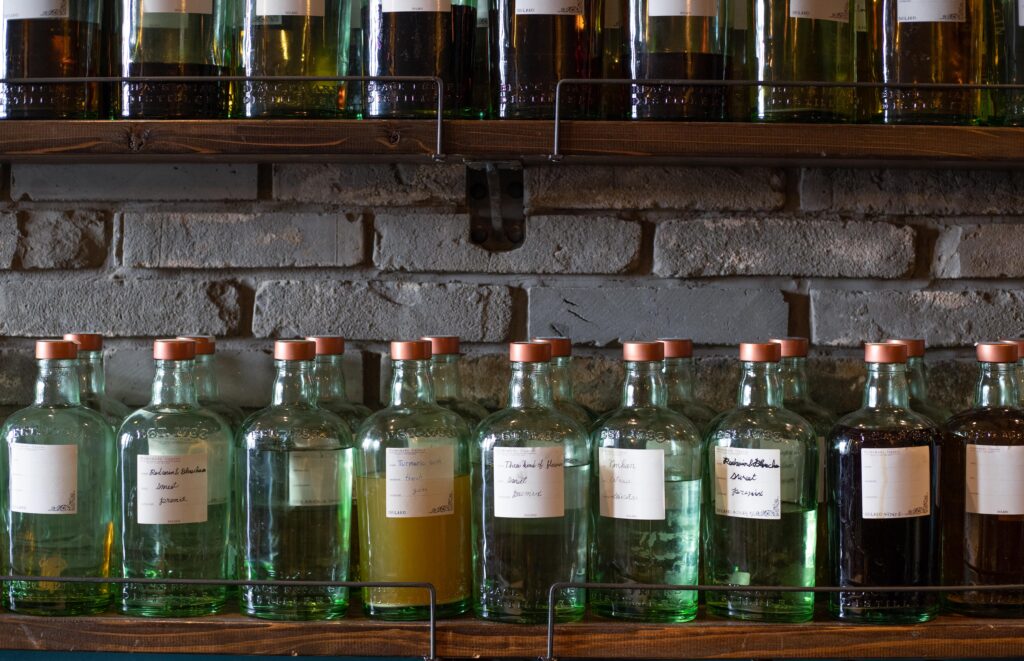 −What is your favorite spot in Okinawa?

There are many, but I like to visit the ocean and cafes in Nanjo City. It's just the right distance from Naha, isn't it? I feel happy when I drive to Nanjo City and relax while enjoying the scenery from the cafes.



Ryukyu Mixology Style Bar Alchemist
Photo text:Sachiko Tachi