Masahiro Okinawa Craft Gin × Ryukyu Mexican "Borrachos"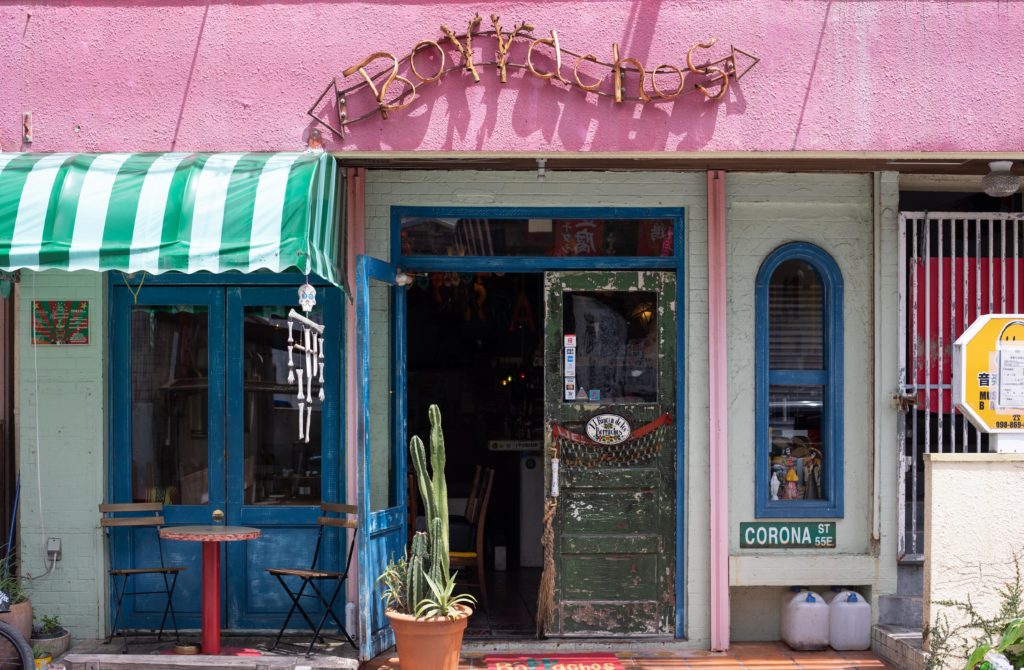 Borrachos, located on Paradise Street, one street away from Kokusai Street, will celebrate its 10th year anniversary in August 2021. The food served at Borrachos is authentic Mexican cuisine. Incorporating Okinawan ingredients such as seasonal Okinawan vegetables, prefectural tuna, island octopus, and island chili peppers, the menu offers a variety of unique dishes that are different from other Mexican restaurants. The unique style of the restaurant, "Okinawa x Mexico" = "Ryukyu Mexican Restaurant," has been well received and the number of regular customers has been steadily increasing.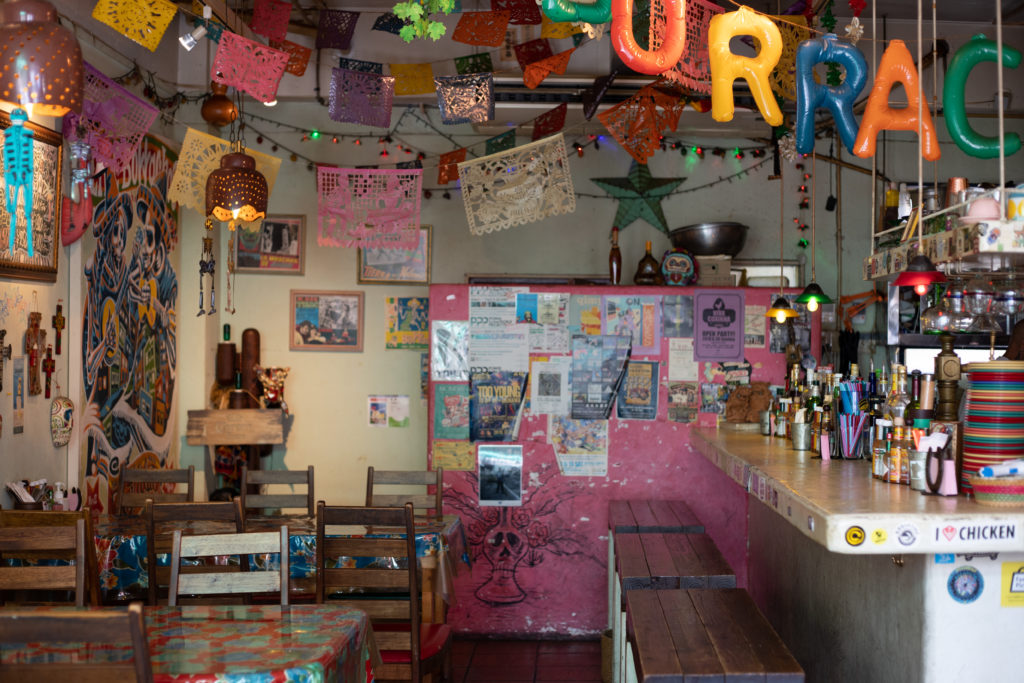 Borrachos, which means "drunkard" in Spanish, is the perfect place for a fun night out with a group of people.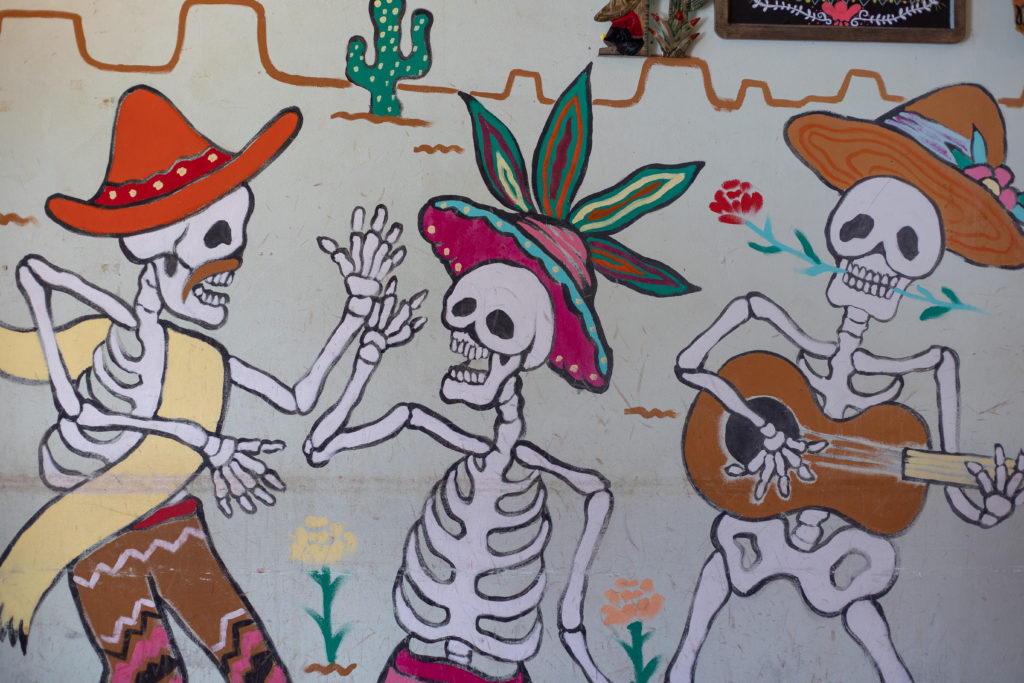 Inside the store, miscellaneous goods purchased directly from Mexico decorate the space, creating an exotic atmosphere. The walls are painted with pictures of skeleton, and the background music is cheerful, improving your mood just by being in the store.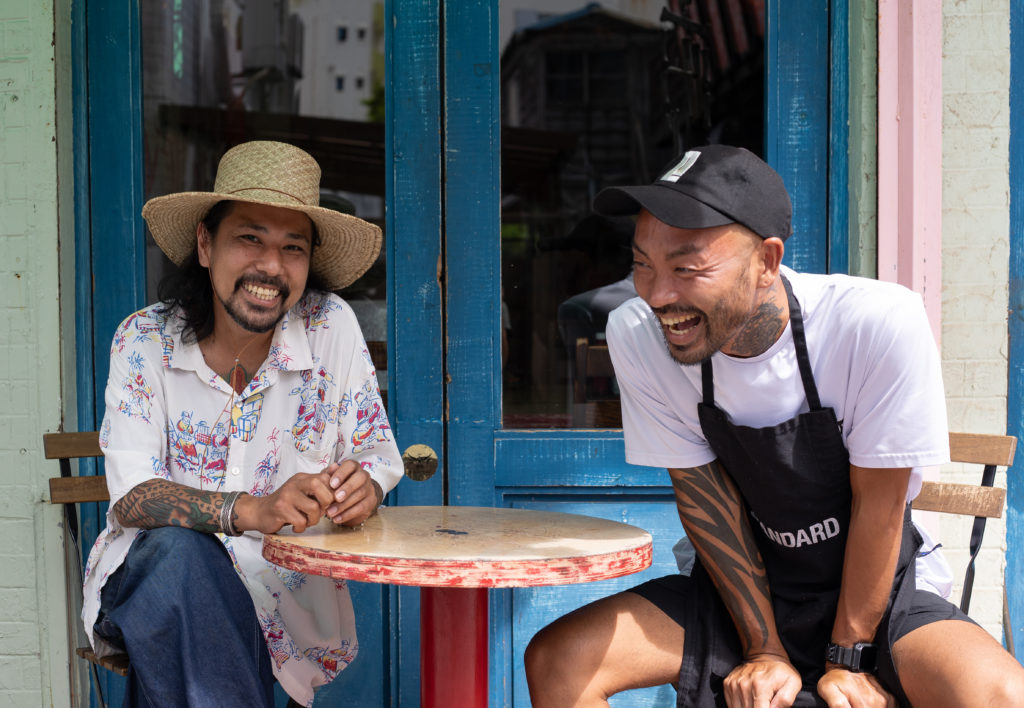 The second store is in Sangenjaya, Tokyo, and a third store opened in Hiroshima in 2016. This time, we talked to Shota Oshiro, the manager of Borrachos in Okinawa (the main store), about various topics.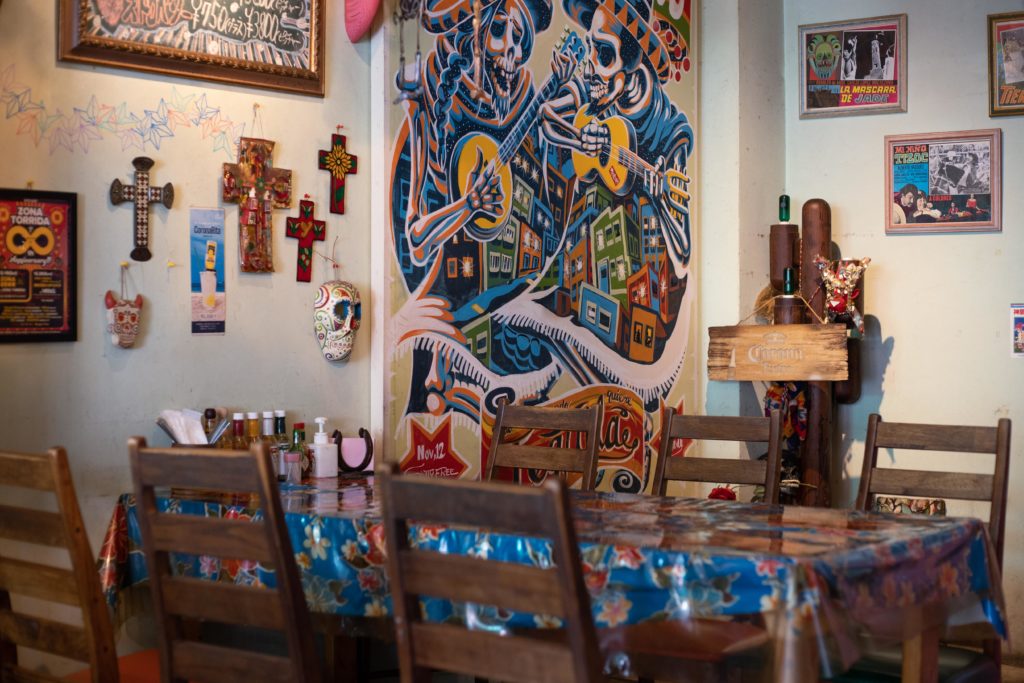 −Please tell us how and why you opened the store.

The representative (Ushio Setoguchi) worked at a Mexican restaurant for 10 years about 12 years ago. After that, he opened a bar in Aoyama, but he had a strong passion for Mexican food, so he decided to try his luck in Okinawa, a place surrounded by beautiful nature and warm-hearted people. He was living in Tokyo at the time, so he consulted with friends and acquaintances who lived in Okinawa. After that it was no brainer.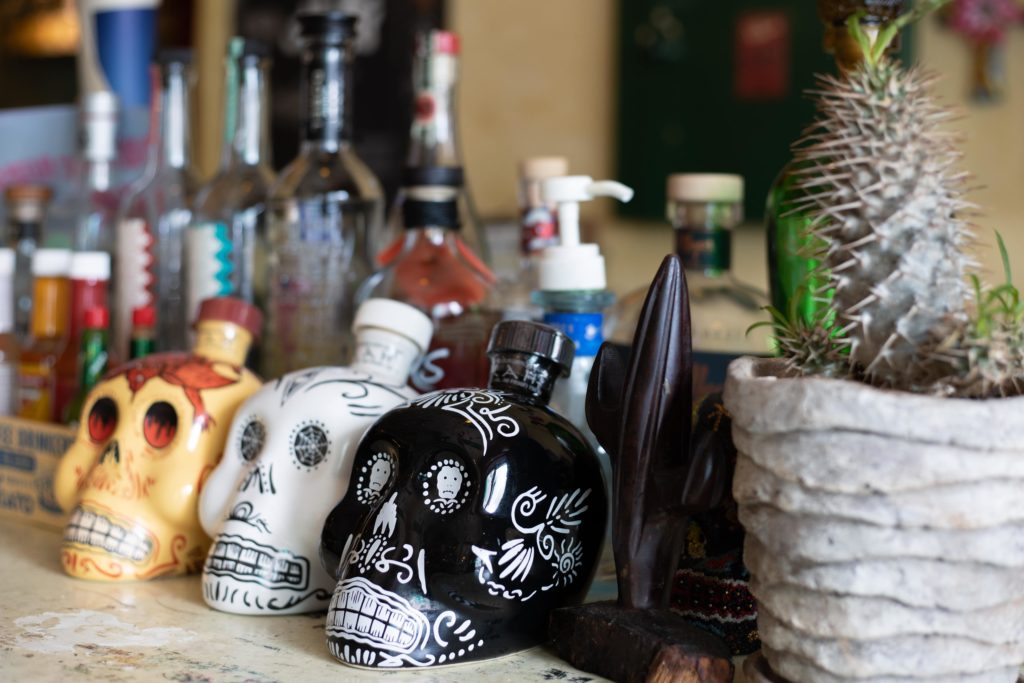 −How did the representative (Ushio Setoguchi) and Mr. Oshiro meet?

We frequently went to the same bar and became friends as we ran into each other a few times, which led me to work as a staff member. Ushio is now working as a store producer and construction manager. We are renovating our store using small items purchased in Mexico and old materials from the US (for example, wood from an old church that was dismantled). The first store is PIPELINE COFFEE, a Mexican cafe on Pipeline Street in Ginowan, which is the sister store of Borrachos.


-Please tell us about the concept of Borrachos.

The concept of the restaurant is "Ryukyu x Mexican," and it offers authentic Mexican cuisine using Okinawan ingredients. It's a good mix of Okinawan and Mexican food.


−What are the items available on the menu?


The "ceviche" made with island chili peppers is very popular. Ceviche is a seafood marinade dish from Latin America, and at Borrachos, fresh white fish from the market is marinated with lemon.
The menu includes a hearty "Seafood Fajita" with prefectural tuna, plump maned red shrimp and slices of squid, "Tacos" with homemade corn tortillas, and the classic Mexican dishes "Cactus, Shrimp and Avocado Salad" and "Buffalo Chicken Wings".
"Mexican pickles" made from seasonal Okinawan vegetables such as bitter melon and beets, "Eringi" mushrooms, and cactus are also recommended as appetizers. The cactus is imported straight from Mexico.
How about "taco rice" or "Mexican Soba" with Okinawa soba noodles to finish it all off?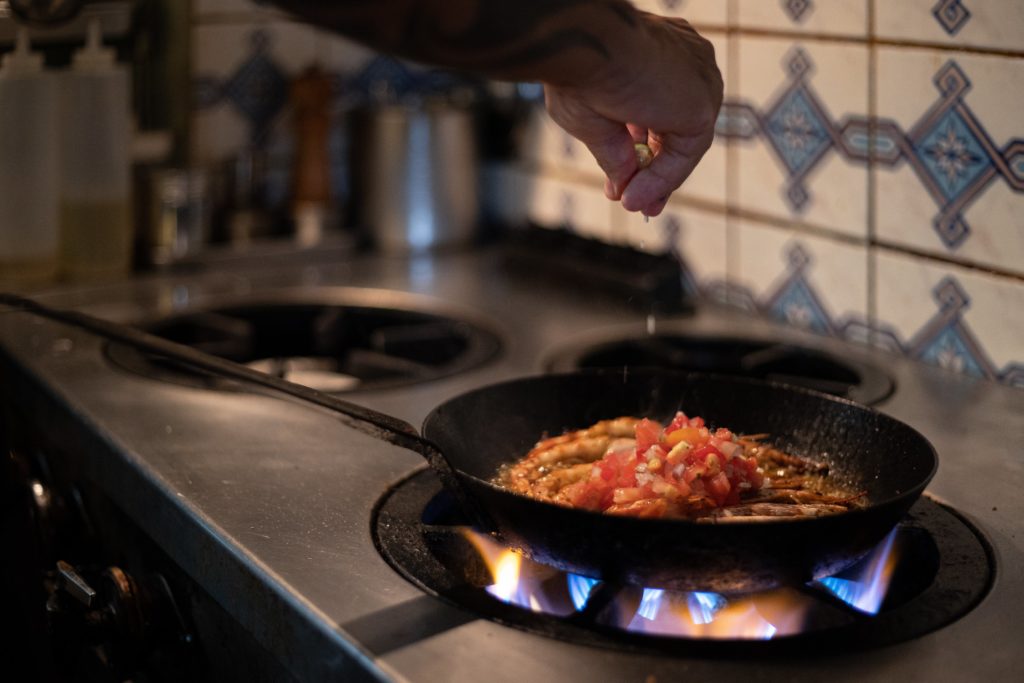 −How did you come up with the menu?


The chef at Borrachos in Tokyo used to work at the Mexican embassy, so I incorporated his ideas, and I also asked a Mexican chef friend of mine to share his recipes with me. I think the number of items on the menu is quite large, from small snacks to desserts.


−What sort of customers do you have?

The restaurant opens at 5:00 p.m., but in the early hours, there are many Americans working at the base that visit. Then the number of local customers starts to increase, and after 24:00 it's usually the regulars.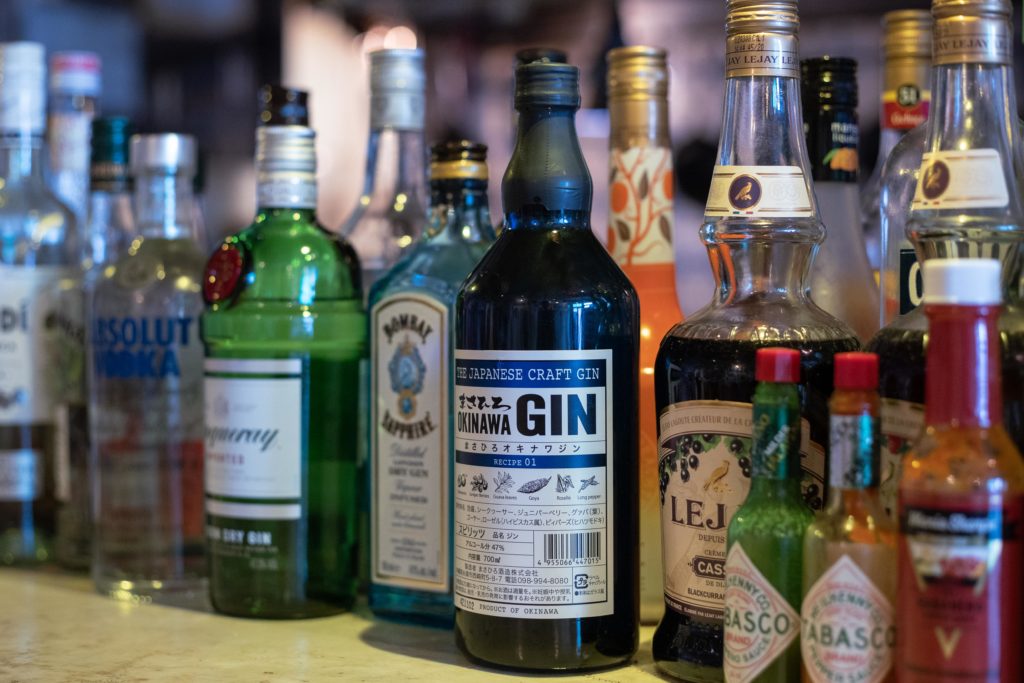 –What sort of alcoholic beverages do you offer at Borrachos?

Mexican cocktails with Mexican beer, beer cocktails, rum, gin, vodka, whiskey, wine and tequila… Awamori is also available.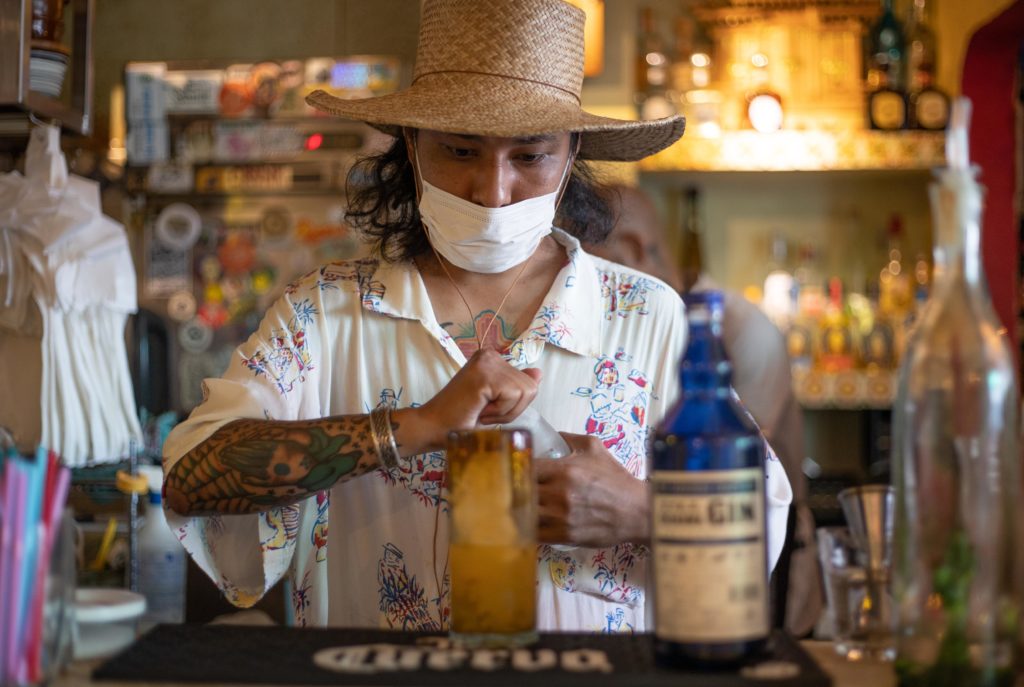 −You also serve craft gin from Masahiro distillery, right? Why did you decide to add it to the menu?

Masahiro Okinawa Craft Gin was recommended to me by a friend of mine, and I decided to add it to the menu. There is also the fact that craft gin is very popular, and the president of Masahiro distillery is a classmate of mine from elementary and junior high school…that's another reason. Masahiro's craft gin is displayed at the counter, many tourists are also interested in it.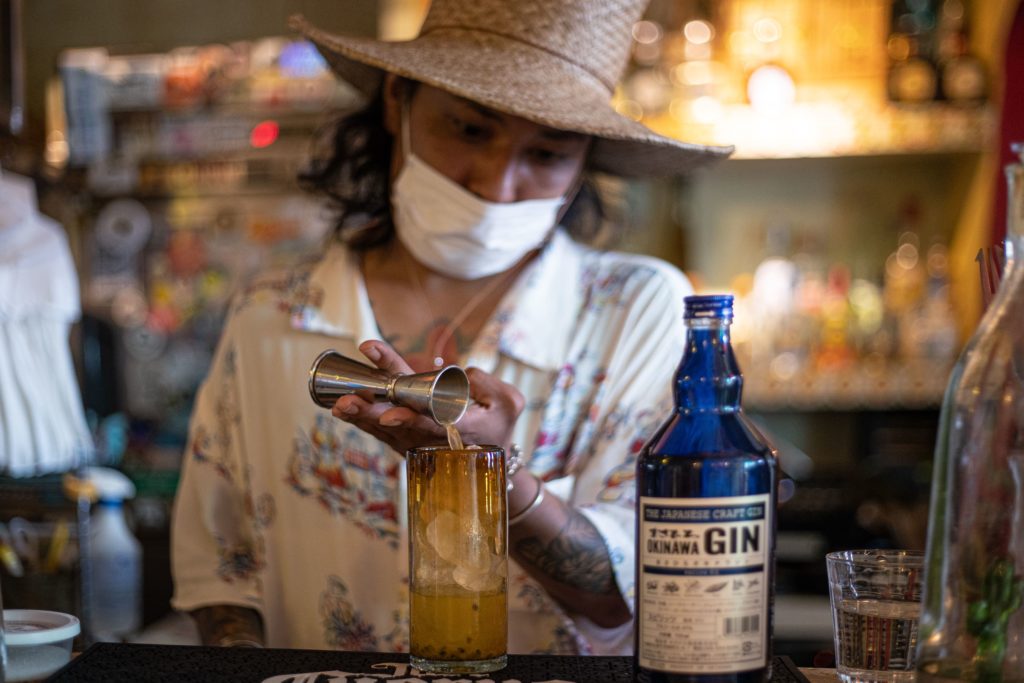 −What is Masahiro Okinawa Craft Gin's appeal?

I thought it was interesting that they used materials from the prefecture, such as "piparch" spice and roselle. Maybe it's because it's based on Awamori, but it's heavier and spicier than Tanqueray or Bombay. I like the gusto of it.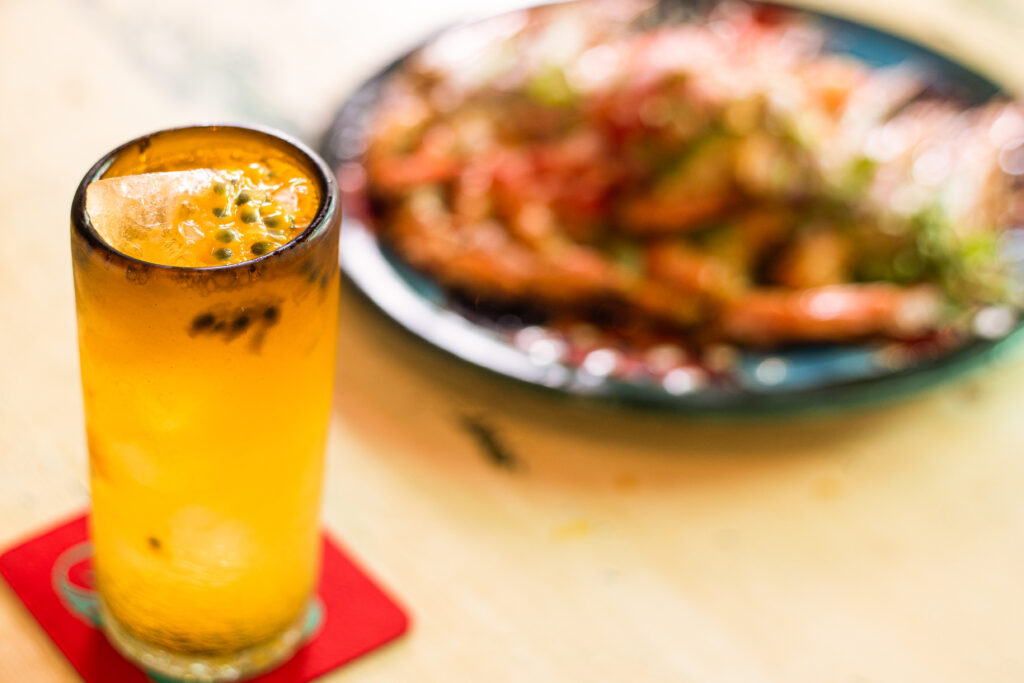 −Do you have any cocktails that use Masahiro Okinawa Craft Gin?


There is "Passion Gin and Tonic" that's only when passion fruit is available, so I think it will be available from June to August.
Passion Gin and Tonic is a cocktail made with fresh passion fruit pulp and lime. Add a little 100% passion fruit juice to Masahiro Okinawa Craft Gin and tonic. Finally, it is topped with passion fruit pulp. This drink has a rich aroma, a good balance of sweet and sourness, and you can enjoy the petite texture of passion fruit.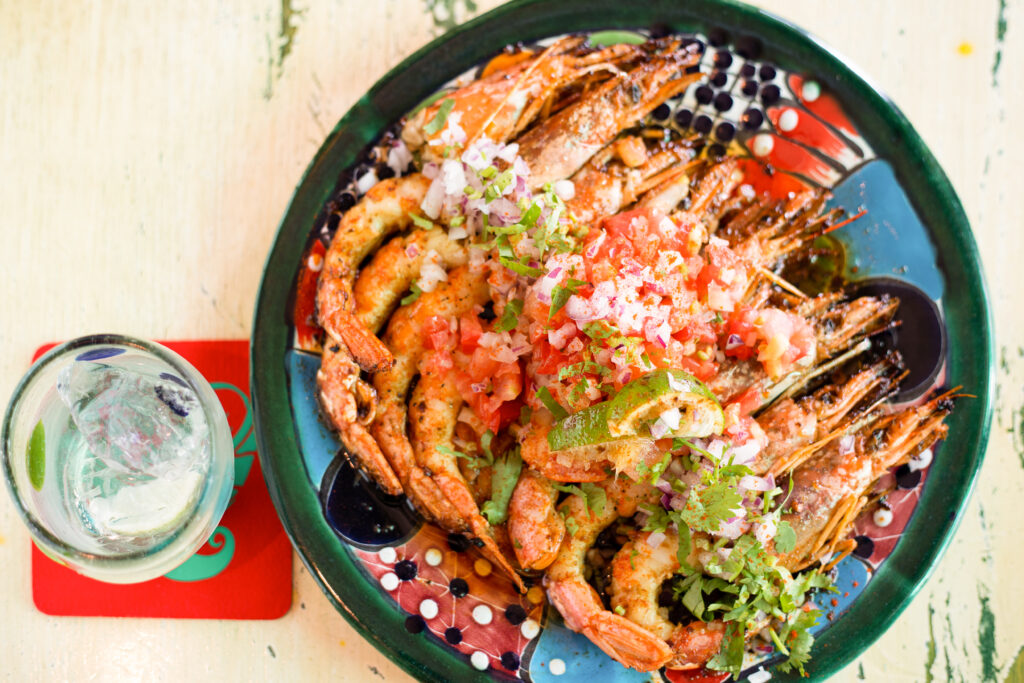 −Can you recommend a menu item for Borrachos to pair with Masahiro Okinawa Craft Gin?

How about "Camarones Al Jinn"? It is essentially served on the menu as "Camarones al Tequila". It's fried shrimp with tequila. Instead of tequila, I used Masahiro Okinawa Craft Gin.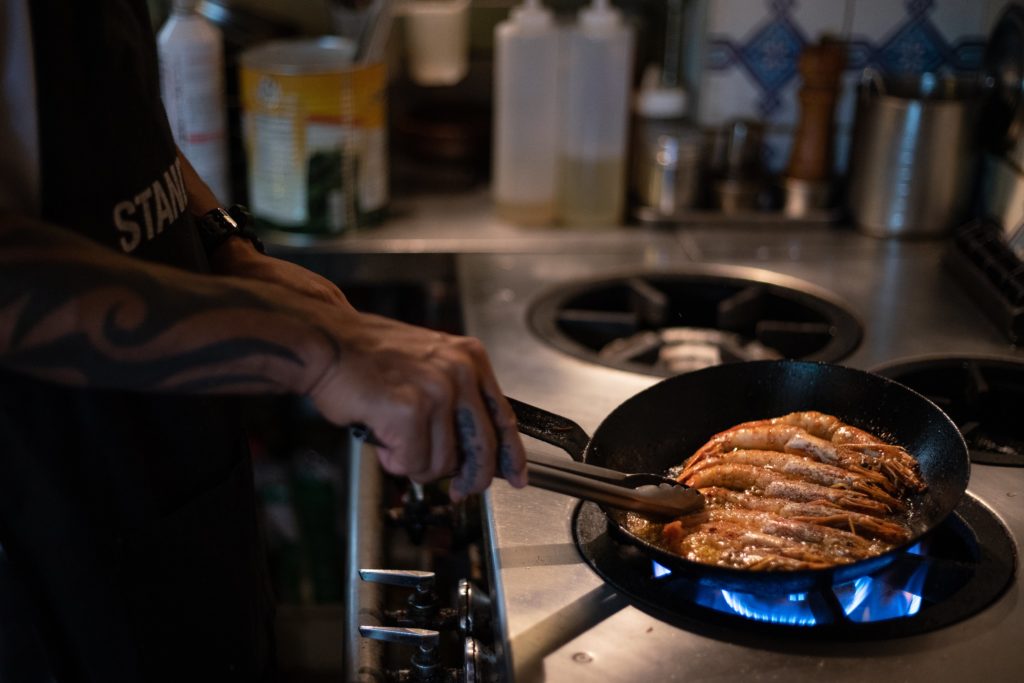 I let the pan real hot and fry the head shrimp, then season with lime and salt. After that, I add more gin and fry them quickly.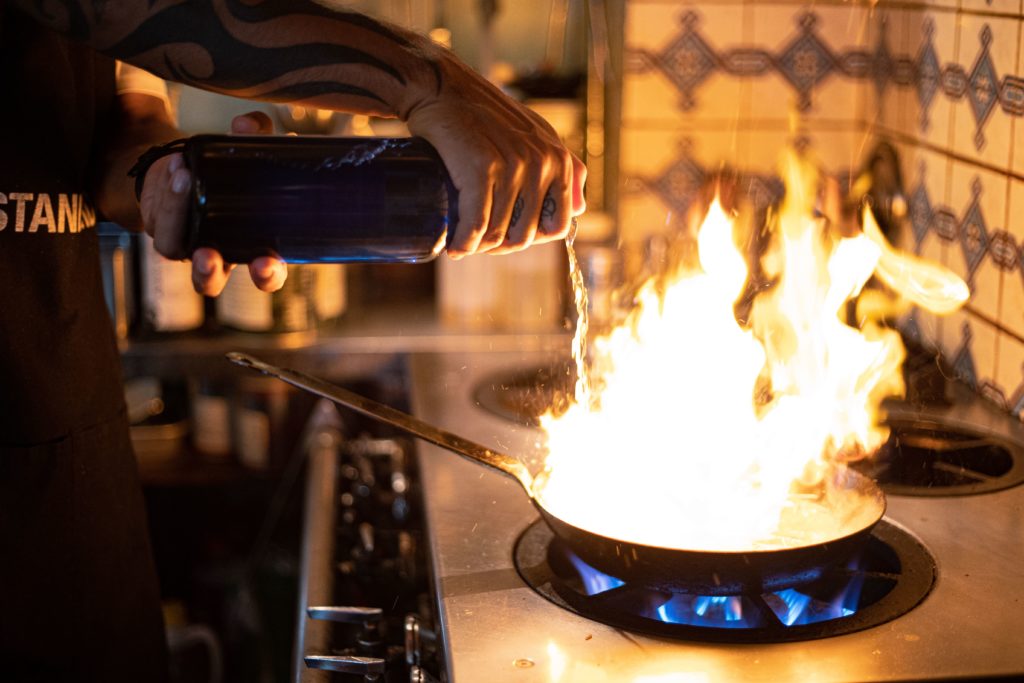 The spicy, smoky flavor unique to Masahiro Okinawa Craft Gin and the sourness of the lime intertwine with the flavor of the shrimp, and it's delicious. Masahiro Okinawa Craft Gin contains multiple spices, making it more potent and spicier than tequila.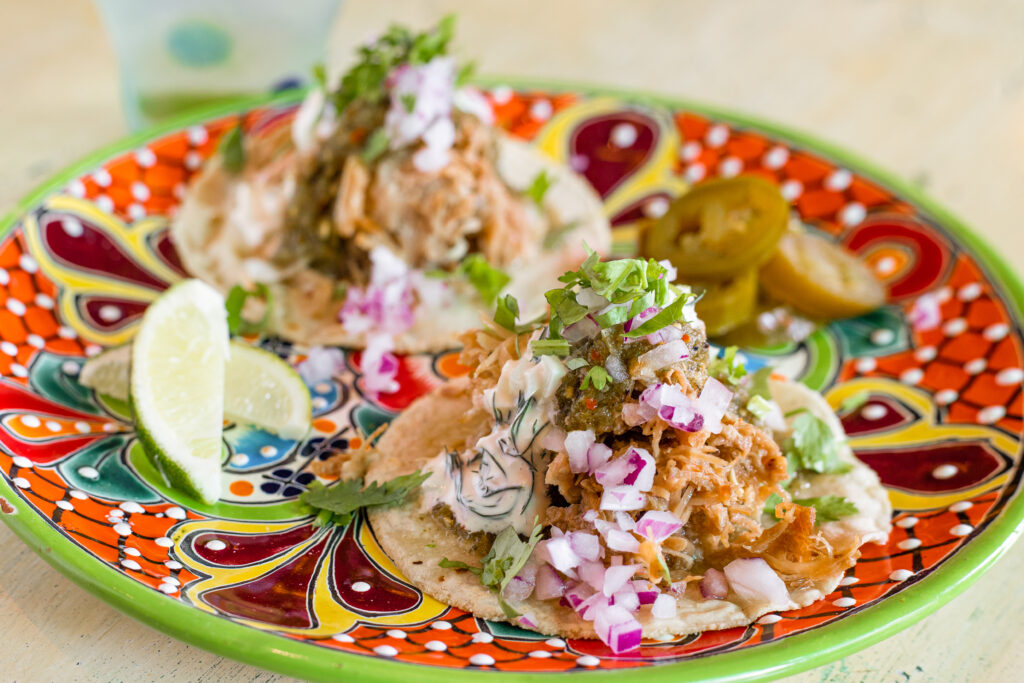 I think carnitas would also go well. This is a taco made of prefectural "soki" (pork spareribs) and "mimiga" (Okinawan pig's ears) confit (cooked in oil) and is a staple of Mexican food stalls. The soki and "mimiga" are cooked for about six hours with oranges, celery, onions, carrots, and chili peppers. When you eat it, squeeze a lime over it. Gin and lime go well together. It is more refreshing than it looks, and you can also enjoy the crunchy texture of "mimiga", which is highly recommended.


−If you were to enjoy Masahiro Okinawa Craft Gin at home, what kind of food do you think would go well with it?


If you drink it with carbonated water, it goes well with pickles and carpaccio. On the rocks, it goes well with fish tempura and tuna sashimi.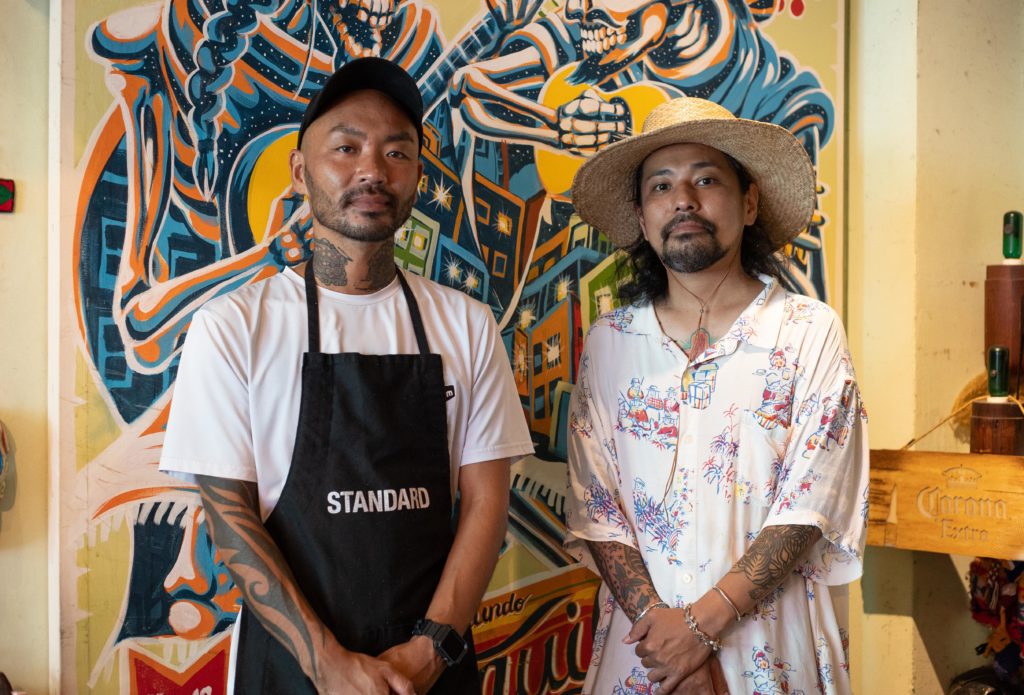 -Borrachos' future goals

I would like to set up an independence support system and develop more sister stores and franchise stores in Okinawa. I think an izakaya is next.

−What spots would you recommend to tourists, Mr. Oshiro?


If you are in Naha, I think it would be interesting to walk around eating and drinking. If you are outside of Naha, you can play in the ocean. But I don't go into the sea. I like to drink alcohol while looking at the ocean(laughing). My friends around me do surfing and diving. It only takes 20 to 30 minutes from Naha to the beach by car, so if you come here as a tourist, please find your favorite beach.

Borrachos
Address:1-3-31 Makishi, Naha City, Okinawa Prefecture Taihei Building 1F
Telephone:098-943-4488
Business Hours:Mon~Thurs 17:00~3:00am, Fri/Sat 17:00~5:00am、Sundays and Holidays 17:00~2:00am
Closed Dates vary.




Photo & text:Sachiko Tachi
English translated : Tom Harwood